Director of Training and Technical Assistance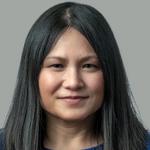 Pronouns: she/her
Christine oversees all aspects of CGRS's training and technical assistance programs, including leading trainings and providing technical assistance support. She is a founding member of the Immigrant Health Equity and Legal Partnerships (ImmHELP), a medical-legal collaboration of attorneys and health professionals, and has an interest in trauma-informed representation. 
Before joining CGRS, Christine served as the Legal Director of Hong Kong Refugee Advice Centre, an associate at a private immigration law firm, and an Attorney Advisor with the U.S. Department of Justice, Executive Office for Immigration Review through the Attorney General's Honors Program.
Languages: Japanese, Mandarin Chinese, Spanish, Taiwanese
Education
American University Washington College of Law, J.D.
Dean's Fellow: Legal Rhetoric Research & Teaching Assistant
Student Advisory Board, Center for Human Rights & Humanitarian Law
Columbia University, School of International and Public Affairs, Master of International Affairs
Evaluation & Policy Analysis Intern at the United Nations High Commissioner for Refugees
Dartmouth College, A.B. in Asian Studies, High Honors
Admitted to practice law in California.
Honors
2017 Legal Aid Association of California Award of Merit for Legal Services Attorney
Service to the Community